The Role of Council
The Council is an elected body of twelve members who are elected for a three year term to carry out duties under the provisions of the Local Government Act and Regulations. A President and a Deputy President are elected by the members of the Council. The President, as well as being Chairman of Meetings, represents Council when it is not in session. Simply stated, Council is the decision and policy making body whilst Council staff are the means by which these decisions and policies are carried into effect.
Councils are responsible for the delivery of a broad and unique range of services to their communities, with different communities within the Region having their own different priorities.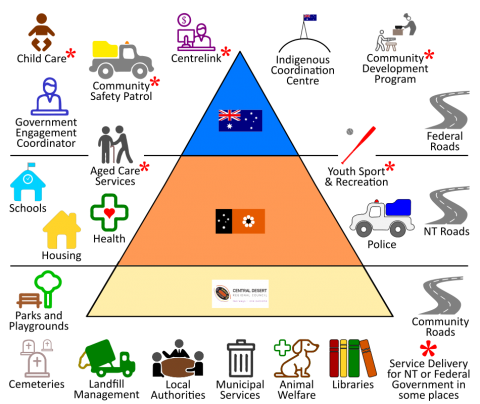 The Council delivers a range of Agency, Commercial and Other Council Services that contribute toward improving the level of services provided to their communities. The Council is faced with the challenge of delivering a broad range of services to a standard acceptable to the community whilst at the same time raising revenues required to deliver core services within the context of its community's ability to support.
The Central Desert Regional Council is responsible for:
Partnerships and Relationships
External Resources (Suppliers and Contractors)
Information Resources
Physical Resources
Human Resources
Financial Resources
Facilitating Local Education and Training
And managing the following resources:
Ensuring Legislative Compliance
Providing Advice and Advocacy
Providing Corporate Governance
Delivering Core Services
The Council operates under the Local Government Act (external link) and its regulations.