Central Desert News April 2021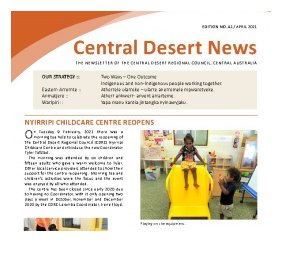 The April 2021 edition of the Central Desert News is out now! You can view it by opening the attachment below.
In this edition:
- Nyirripi Childcare centre reopens
- It's raining training at CDRC!
- A lot of actual rain
- Imparja Cup
- 2020/21 Year planner
CDP Activities Protecting Trees and Books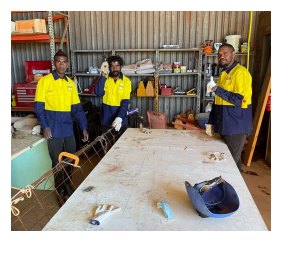 Community Development Program (CDP) participants across all the Central Desert Regional Council (CDRC) sites have been reengaging with the program after the Christmas break and the men's business season.
In Yuendumu they have been making tree guards for trees purchased under the Drought Relief funding.
Photo above: Left to right: Ziggy Brown, Andrew Brumby, and Eli Egan making tree guards for trees purchased under the Drought Relief funding.
Engawala Cemetery Plot Marker Trial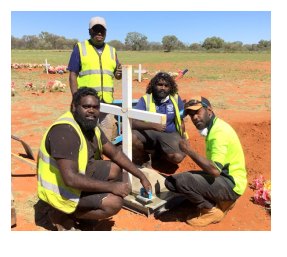 The Central Desert Regional Council (CDRC) Engawala works crew have installed new plot markers in the cemetery, as part of a trial to better mark out the plots.
"Community residents have visited the site after the works were completed, and were very happy with the new plot markers in the cemetery," said Community Services Coordinator, Frank Tzoukos.
"Engawala has one of the best cemeteries in CDRC. It highlights the need for caring and respecting for the deceased," he added.
CDRC VALUES AWARDS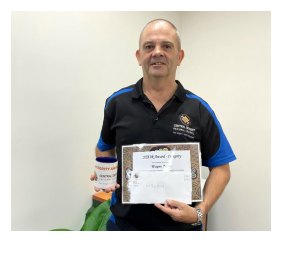 These are the premier Central Desert Regional Council (CDRC) awards, now in their third running. The value of the awards has been increased as the standard has increased. The awards were formally acknowledged at the last All Staff meeting in March, where winners received a certificate, $200 voucher and a mug commemorating the value the winner is demonstrating.
Congratulations to all the winners, well done on demonstrating the values and your strong contribution to Council.
Yuendumu Recycling Shed
Yuendumu now has a dedicated recycling shed, with bays for seven different recycling categories.
The shed was designed and constructed by an Alice Springs business using local employees, to cater for the community's needs and to assist with increasing recycling.
It also focusses on diverting waste from landfill, which is a National, Northern Territory and Local Government initiative. The aim is to increase the average resource recovery rate from all waste streams in Australia to 80% by 2030 (National Waste Policy Action Plan 2019).
Family Wellbeing Training for Aged Care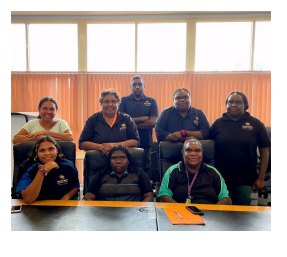 Central Desert Regional Council (CDRC) Aged Care Services staff in Anmatjere (Ti Tree) started their Certificate II in Family Wellbeing on Monday 22 March.
The certificate, delivered by Batchelor Institute in Ti Tree, is a program that addresses the physical, mental, emotional and spiritual issues that impact on an individual's wellbeing, family unity and community harmony.
The aim of the certificate is to address unresolved personal and community issues, which can impact on individuals and families throughout their lives. These can manifest in grief and trauma, suicide and other forms of self-harm, identity issues, use of alcohol and other drug problems, family violence and over representation of Aboriginal and Torres Strait Islander peoples in the justice system.
Engawala Cool Room for Aged Care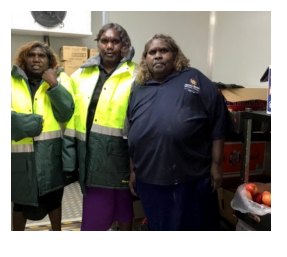 Central Desert Regional Council (CDRC) Aged Care Services have added a wonderful cool room at the Aged Care facility in Engawala after receiving funding from the Aged Care Regional Rural & Remote Infrastructure Program.
The new cool room means that sufficient goods can be held for more than a fortnight and more space for clients in the dining area as a result of removing unneeded fridges and freezers.
Main photo: Jackets on for Patsy Tilmouth and Rachel Tilmouth, with Irene Tilmouth braving the cold in the cool room.
Kids Safety Program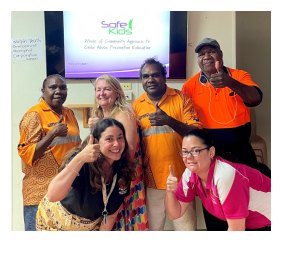 On Wednesday, 10 March, members of the Central Desert Regional Council (CDRC) Lajamanu Community Safety Patrol attended a stakeholder workshop as part of the Safe4Kids program. Safe4Kids works through the school to teach protective behaviours to children, and provide them with a set of tools to use if they feel unsafe. Delivery at the school is followed up with community education sessions, ensuring that adults understand what the children have learned, and recognise the simple hand gestures that can be used to demonstrate feelings of safety or distress.
Pictured are (back row) Matrina Robertson (CDRC), Holly-Ann Martin (Safe4Kids), Gerald Watson and Andrew Johnson (CDRC), and (front row) Francesca Szakaly and Michelle Newman (Katherine West Health) giving the thumbs up sign, to show that they feel secure.
Traffic Control Training for Works Crew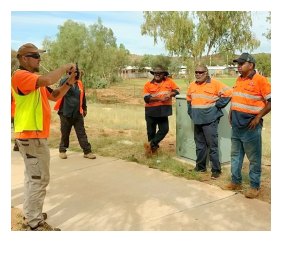 On 12 March Central Desert Regional Council (CDRC) works crew members participated in traffic control training, which they will use for their everyday road maintenance activities such as road grading, pothole patching, signage installation, etc.
The participants were Cyril Kunoth, Albert Wilson, Geoffrey Wilson and Colin French from Yuendumu and Alan Davis from Anmatjere.
The training was sponsored by Boral Asphalt and was delivered by Civil Train in Alice Springs.
More 4WD Training in Alice Springs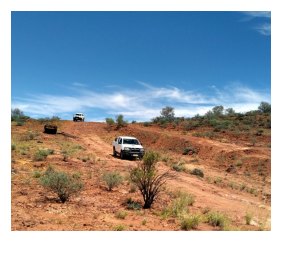 On 17 March more Central Desert Regional Council (CDRC) staff members attended a four wheel drive course, after another course run on 17 February. This time there were staff from Community Development Program (CDP), Community Safety Patrol (CSP), Works and Aged Care.
Main photo: Practicing four wheel driving on dirt roads.