Yuelamu and Engawala in Southern Cup this Weekend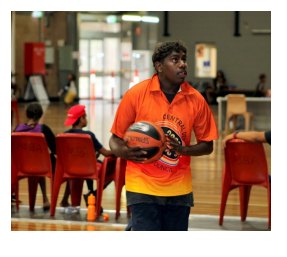 This weekend at Alice Springs Basketball Stadium, the Yuelamu Men's basketball team and Engawala Men's Basketball team will represent Central Desert Regional Council (CDRC) at Southern Cup Basketball Tournament. The teams will travel to Alice Springs along with teams from all over Central Australia to compete in the two day tournament.
"It is great to see these two communities participating in the Southern Cup. We haven't had Yuelamu representing Central Desert in a sporting competition for almost two years and I know that the men are excited to represent Central Desert, and Engawala have the opportunity to compete in the event for a second year running," said Aaron Tannahill, Program Manager Youth, Sport and Recreation.
Wilora Men's Shed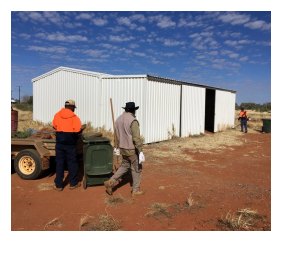 Work has begun on fitting out the former Wilora works depot as a men's shed. This was a result of a community survey and a request from the Wilora community. Preliminary plans were drawn up with contributions from community members and Mark Wilson, Team Leader Activities Community Development Program (CDP. The preliminary plans have now been professionally produced by a draftsperson ready for quotations from Power and Water and electricians.
As part of the Builder Trainer activities, the shed has been cleaned out and work begun on preparing for a concrete slab in an annexed section of the shed by Mark Francis, CDP Builder Trainer, Greg Corbett, CDP Wilora Support Officer, and volunteer job seekers in Wilora.
Lanceton 10 Years at Anmatjere Aged Care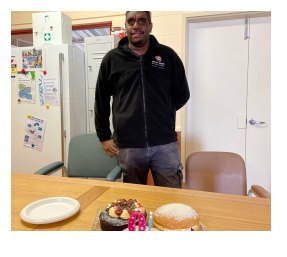 Lanceton Campbell just completed ten years of working for Central Desert Regional Council (CDRC) at Anmatjere Aged Care in Ti Tree.
Lanceton started with Aged Care on 2 August 2011 as a Support Worker and with dedicated hard work has worked his way up to Supervisor.
Congratulations and well done, Lanceton!
CDRC Win Employer of Choice 2021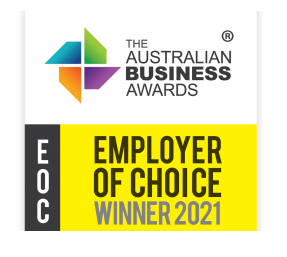 Central Desert Regional Council (CDRC) has been recognised as a Winner for Employer of Choice in The Australian Business Awards 2021. The Australian Business Awards for Employer of Choice recognises organisations that develop leading workplaces that maximise the full potential of their workforce through established policies and practices that demonstrate effective employee recruitment, engagement and retention.
CDRC is a Local Government entity that operates in the Northern Territory, to the north of Alice Springs, with boundaries that go from the Queensland Border to the WA border covering a land area of 282,064km2. The municipal area is home to approximately 4,200 people and spread over eleven Indigenous communities and one town. Council's workforce of around 240 staff, over 69% of whom are Indigenous, is spread over those twelve locations and also in the Alice Springs based headquarters. The area is home to the most disadvantaged people in the Northern Territory, and CDRC's core mission is to build sustainable communities through service delivery, advocacy, and community engagement.
Willowra Green House Back in Action!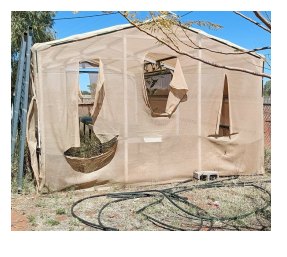 The Central Desert Regional Council (CDRC) Community Development Program (CDP) have got a working greenhouse going in Willowra to engage job seekers in the community. Ricardo Burton, Support Officer, cleared the grass from the existing greenhouse which had been neglected, and Francis Madonko, Program Manager CDP Activities, teamed up with Mark Wilson, Activity Project Officer CDP, to repair it.
In the planting beds tomatoes, onion, silver beat, chillies, and herbs were planted, and some old car tyres were added under the garden stands and planted with pumpkins.
New Yuelamu Accommodation Means Silver Bullet Had To Go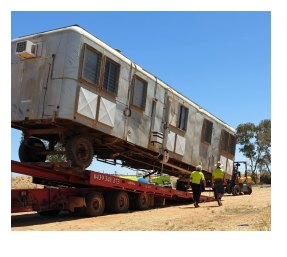 Central Desert Regional Council (CDRC) have plans for more CDRC staff accommodation in Yuelamu. This means that the old Yuelamu 'Silver Bullet' had to be removed to make room for it and any future expansion of staff accommodation.
The 'Silver Bullet' was once used as a classroom and then as CDRC staff accommodation, but due to containing legacy asbestos had to go. On Saturday 11 September Alice Springs Towing alongside Nicholl Constructions successfully removed and disposed of the old 'Silver Bullet'.
Photo: The 'Silver Bullet' being removed from Yuelamu.
New Skid Steer Arrives in Atitjere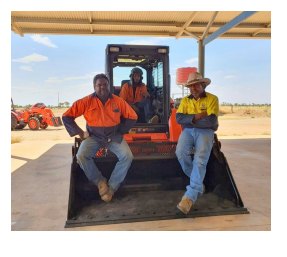 The Central Desert Regional Council (CDRC) Atitjere Municipal Works Team have just taken delivery of a new Kubota SVL75 skid steer.
Shane White, Nathan Fishook and David Rankine got familiar with the new machine on Tuesday, 28 September.
The new machine has a higher lifting capacity and is tracked making it more suitable for landfill works than the older JCB wheeled skid steer that it replaces. The control layout and cabin is very similar to the old machine making the change over easy. The cabin in the new skid steer is air conditioned and has an adjustable suspension seat that makes operation comfortable. It also has an auger attachment and extension forks for the front end loader making it very versatile.
Work Health Safety Film Competition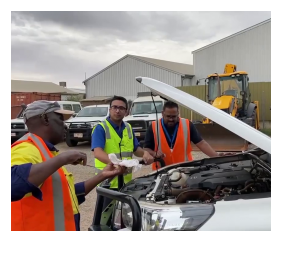 The Work Health and Safety (WHS) October Safe Work Month film competition was hotly contested this year, with the dominant themes around vehicles and personal protective equipment (PPE).
At the September Council meeting the Councillors watched all the movies and deliberated over the outcome and there was a dead heat between two movies. Luckily, the Hon. Chansey Paech was in attendance for the swearing in of the new Councillors and was asked to choose the winner.
The winner as chosen by the Council and the Minister were the Community Development Program (CDP) team for their film, 'Think Safe and Drive Safe'. Congratulations to the CDP team.
New CSP Vehicles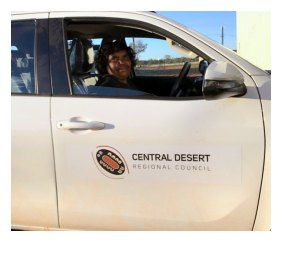 The Central Desert Regional Council (CDRC) Community Safety Patrol (CSP) team held a barbecue on Saturday night to introduce the new CSP vehicle for Engawala.
"The BBQ was a huge success. We had over 45 people come along, and the CSP Team Members did a lot of the heavy lifting with cooking, setting up the tables, and serving people," said CSP Team Leader in Engawala, Stephen Royes. "And they love the new car!" he added.
The new vehicle is a Toyota Fortuna, an SUV version of the Hilux that it is replacing, with capacity to carry seven people. A new one will go to each of the CDRC CSP communities.
Engawala got the first vehicle of the new set, because the team took such good care of their last vehicle.
New Council Sworn In for Central Desert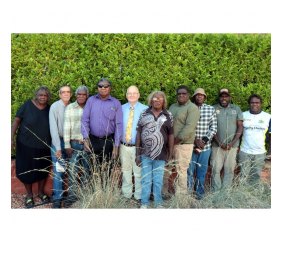 Central Desert Regional Council (CDRC) welcomes the newly elected Councillors to the fourth CDRC Council, who were sworn in on 30 September in Alice Springs, with Chansey Paech MLA in attendance.
Cr Adrian Dixon was elected President once again by the Council, with Cr Warren Williams returning to the role of Deputy President.
Adrian Dixon, Warren Williams, James Glenn, William Liddle, April Martin, Jacob Spencer and Freddy Williams all return to the Council, with Adrian Dixon and James Glenn having served on Council since its beginning in 2008.