Edna Snape has worked in the Aged Care industry for over 30 years. She was born and raised in Darwin, and she began working in aged care at a young age in Katherine as a volunteer for the Red Cross. Edna moved to the remote community of Beswick (Wugularr) in 1990; she worked for 14 years as a Coordinator for Beswick (Wugularr) Council, where she was involved in establishing the women's centre, crèche, and aged care.
"I received a phone call from the Anmatjere Council in 2004 and was told there was a position in aged care; I started as a support worker and completed my training and qualifications in Cert IV Aged Care," said Edna.
Edna eventually rose to the position of Coordinator, also completing a Certificate IV in Training Assessment.
She began working with CDRC following the Council amalgamation in 2008. Edna has worked in several aged care facilities in the Central Desert Region, including Ti Tree, Engawala, Willowra, and Wilora. Edna left CDRC Aged Care in 2015 and returned in 2017 because she is passionate about working with and for the people of her country. She had been working as the Respite Coordinator in Ti Tree since the respite centre opened there in 2019.
Ti Tree Aged Care Centre previously served and managed Wilora Aged Care Centre, 60 kilometres to the north. However, while working in Ti Tree, Edna had the idea of separating Wilora from Ti Tree and opening a separate aged care facility to serve Wilora's clients better. Edna accepted the challenge and relocated to Wilora in October 2021. As a result, she has significantly transformed Wilora Aged Care into a fully functional Aged Care Centre in a short period, successfully increasing services delivered and increasing the number of clients receiving services by 65%.
Photo above: Marlin De Silva, Edna Snape with her award, Patchouli Cross and Ben Poona.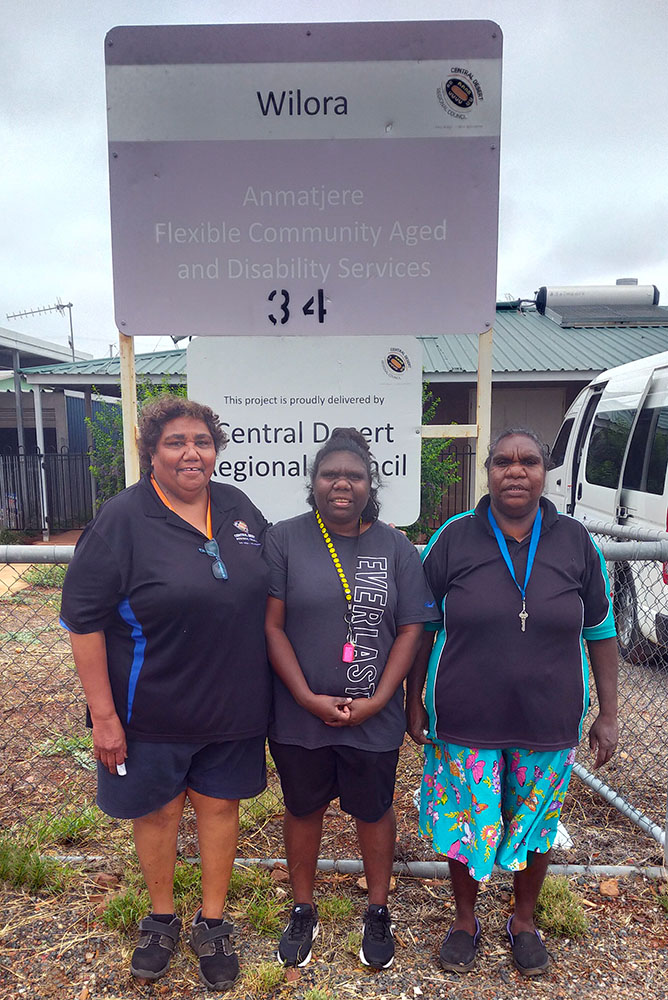 Edna Snape with Aged Care staff Cherise Moore and Selina Gorey in front of Wilora Aged Care Centre.
With her many years of experience and a thorough understanding of the industry, Edna has mentored and trained many current and previous Aged Care staff. Before Edna moved to Wilora, she ensured that Ti Tree staff were well prepared to take over the position and not interrupt the Ti Tree services. As a result, there is a complete local team in the Wilora and Ti Tree aged care facilities.
"I have always been dedicated and driven to deliver aged care service in community, and to advocate for Aboriginal people," said Edna.
Edna was presented with the award by Ben Poona, a board member of AAG NT, at a ceremony in Alice Springs.