Celebrated from 3 July to 10 July, this year's theme this year was 'Get Up, Stand Up, Show Up!'
Through the preparations the youth of Yuelamu have been the artists, story tellers and the stars of the show. These emerging leaders have lived up to this year's NAIDOC Week theme. They stood up, they got up and they showed up and made the community very proud.
Without actually knowing it, all the way through these preparations the youth were also kicking goals in their school curriculum.
"In Indigenous Language and Culture curriculum this Semester, students' learning has focused on identity. During NAIDOC week celebrations, students spoke about their identity and culture. Students actively participated in a video presentation and they were proud to tell their stories. The students spoke about their skin names, where they are from and languages they can speak. Students took part in canvas painting where they painted their dreaming stories. It was great to see students sitting with their mum and grandmother while painting," said Doreen Lata, Principal; Mt Allan School.
The stakeholders involved in the celebrations included Mt Allan School, Outback stores, Traditional Owners, community members/leader, and Central Desert Regional Council (CDRC) Municipal and Youth Sport and Recreation (YSR)/Community Safety Patrol (CSP) teams.
"Some of the comments we got from various community member such as 'This was the best NAIDOC we have ever had' and 'We feel so proud of what our kids have done'," said Vaughn Hampton,
Team Leader - Youth Sports and Community Safety, Yuelamu.
Photo above: The flag raising.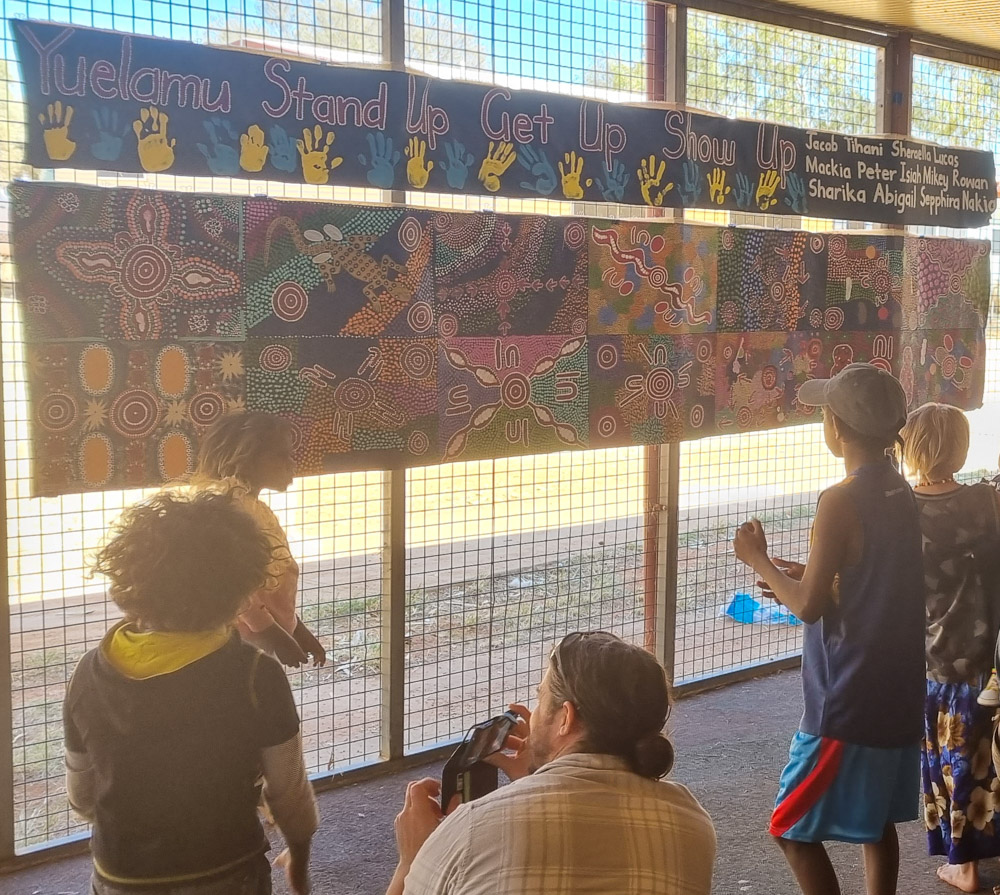 The artwork by the Mt Allen School students on display.