It all happens before the first bell is rang to start school. The senior students wash their hands and prepare breakfast for all the students at school.
They learn routine, team work, life skills and how to make a fulfilling breakfast to help them study and have better concentration in class.
"It has a great positive effect on the kids all day with an amazing start to the day. It would not be possible without the school support with a fantastic facility and staff support," said Vaughn Hampton, Team Leader - Youth Sports and Community Safety – Yuelamu.

"It has been great partnering up with Sport and Rec this year to run a weekly cooking program at the school. Vaughn and his team have been working closely with secondary students to cook up a weekly breakfast for students. This has seen an increase in attendance across the school with students arriving at school before 8am to be a part of it. It's great to see the school and Sport and Rec combine to promote better outcomes for students of Mt Allan and I'm looking forward to seeing the success build throughout the year," Said Toby Brown, Principal of Mt Allan School.
This program was supported by funding from Central Australian Youth Link-Up Service (CAYLUS).
Photo above: Jacob Turner and Zacc Stafford (YSR officer) cooking some bacon.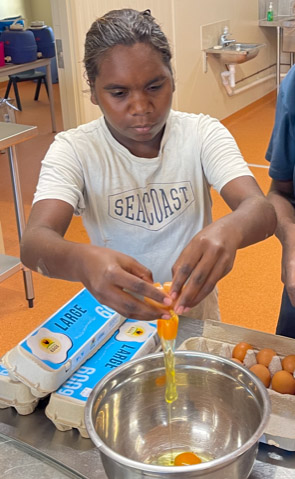 Anna-Lisa Jurra cracking an egg to make scrambled eggs.