With the help of job seekers, CDP collected some soil and made basins around the trees to help collect enough moisture for the trees when it rains.
The project was also budgeted with a portable watering kit for each tree. They used concrete bricks collected from the tip to raise the water tanks so that gravity will make the water flow. To make the watering system less vulnerable to damage by kids they used three metal stakes (also from the tip) with flat sides to keep the tank secured by wire on top of the bricks.
Each tank is installed with a water outlet that has been calibrated to have water drip every three seconds. Monitoring is taking place to check how long it takes the container to run dry, and the LA water trailer is used to fill them.
"As a landscaping fan this was a very exciting project to be a part of," said Francis.
Photo above: Timothy Glenn, CDP Laramba Support Officer, watering a tree with a new basin, using the Laramba LA water trailer.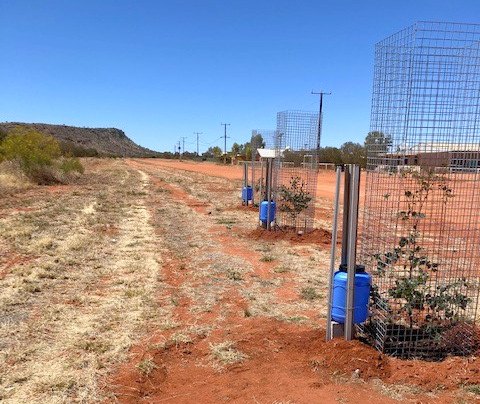 Some of the trees with their new basins and watering systems.