Municipal Crews Attend 4WD Training Course
On Tuesday 17 February Central Desert Regional Council (CDRC) municipal crews from Anmatjere (Ti Tree), Laramba and Yuelamu attended a four wheel drive training course in Alice Springs.
The attendees were Mack Murphy, Norman Hagan and Cliffy Tommy from Yuelamu; Billy Briscoe and Caesar Tilmouth from Laramba; and Elias Birch Baird from Anmatjere.
A four wheel drive course helps keep drivers safe when on dirt roads and prepares them in case they get bogged.
Photo from left: the instructor, Billy Briscoe (behind), Cliffy Tommy, Caesar Tilmouth, Mack Murphy and Norman Hagan.
Cricket Upskill for Youth, Sport and Recreation Staff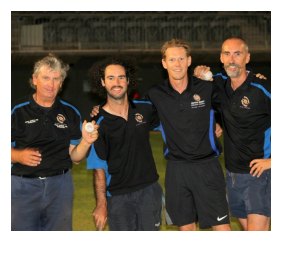 Central Desert Regional Desert (CDRC) had four representatives at Northern Territory Cricket's Community Coaching Course (Level 1) on Wednesday 17 February.
Stephen Royes, Stephen Evans, James Anderson and Jeff Aubert (Youth Sport and Recreation Team Leaders in Engawala, Laramba, Yuelamu and Ti Tree respectively) completed the online component of the course prior to the practical session, which was held at Mona's Lounge, Traegar Park in Alice Springs.
The Team Leaders will pass on the skills learnt to the Youth, Sport and Recreation Officers in their communities to continue to upskill players in preparation for inter-community tournaments, Imparja Cup, and Youth, Sport and Recreation evening activities.
Nyirripi Childcare Centre Reopens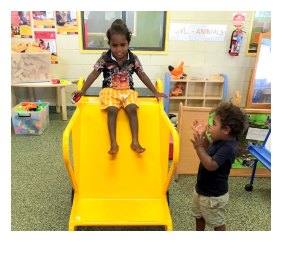 On Tuesday 9 February, 2021 there was a morning tea held to celebrate the reopening of the Central Desert Regional Council (CDRC) Nyirripi Childcare Centre and introduce the new Coordinator Tyler Tafstad.
The morning was attended by six children and fifteen adults who gave a warm welcome to Tyler. Other local service providers attended to show their support for the centre reopening. Morning Tea and children's activities were the focus and the event was enjoyed by all who attended.
New Yuendumu Landfill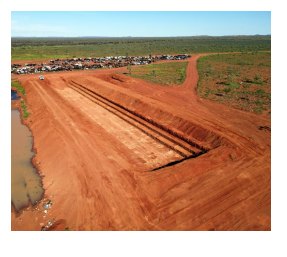 Yuendumu has just had a new landfill constructed at their waste management facility. It will be used to safely dispose of community waste over the next four and a half years with a capacity of 5,610m3, or just over two Olympic swimming pools.
This is the fourth new landfill constructed by Central Desert Regional Council (CDRC) this financial year and uses the same design as the Willowra and Yuelamu landfills. The design includes constructing 'benches' around the sides, giving it a stadium look. This reduces the likelihood of the walls collapsing, making it safer for the field staff when working in the pit.
Imparja Cup This Week
Central Desert Regional Council (CDRC) are represented by Anmatjere for the men and by Laramba for the women in the 2021 Imparja Cup Cricket Carnival this week (15-19 February).
Anmatjere and Laramba to Represent CDRC at Imparja Cup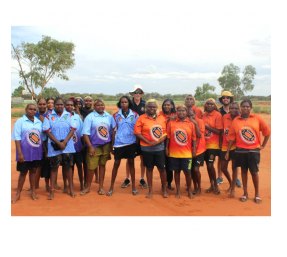 Central Desert Regional Council (CDRC) community members will travel to Alice Springs next week to compete in the 2021 Imparja Cup Cricket Carnival, which runs from 15 - 19 February. The men are represented by Anmatjere and women are represented by Laramba.
Women from Yuelamu travelled to Laramba last week to compete in an inter-community cricket game in preparation for the Imparja Cup. All players enjoyed the experience, and the Laramba community attended the game in large numbers. Laramba won the game which led to their selection to represent CDRC.
Yuelamu CDP Road Works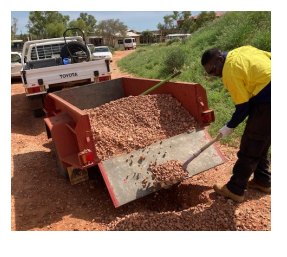 Last week the Central Desert Regional Council (CDRC) Community Development Program (CDP) worked on fixing a road in Yuelamu.
A large gully in the road made it unsafe for driving. The CDP participants filled it in with gravel and finished it off with top soil. This will stop water from travelling down it and creating even more erosion.
Now the drivers and pedestrians of Yuelamu can travel along this street safely again.
Yuelamu Tidy Town Award Comes Home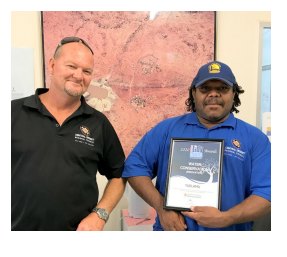 Following the win for Yuelamu of the Water Conservation (Innovation) award in the 2020 Territory Tidy Towns Awards online, Central Desert Regional Council (CDRC) Senior Administration Officer Yuelamu, Norman Hagan, received the physical award on behalf of Yuelamu from Regional Services Manager, Jason McKissock.
This was not the first time Yuelamu won the Water Conservation Award, winning it back in 2017, but it was the first time that the awards ceremony was held online.
Photo: Jason McKissock (left) presented Norman Hagan (on behalf of Yuelamu) with the award.
Engawala Flood Clean Up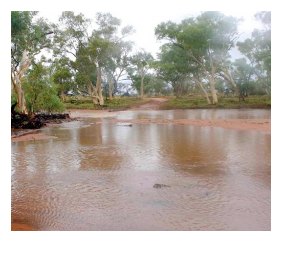 The recent heavy rainfall of 260mm in Engawala caused minor flooding including blocking the access road. Once the water went down the Central Desert Regional Council (CDRC) Engawala Works Team got to work cleaning up the road to make it a smooth crossing.
Main photo: The Engawala access road, with Waite Creek flowing across it.