Yuendumu News
Another Prime Mover Driver for CDRC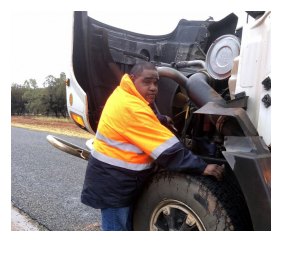 Cyril Kunoth (Central Desert Regional Council (CDRC) Yuendumu Roads Team Leader) passed his Heavy Combination (HC) driver licence training on Wednesday 23 June. He can now drive the CDRC prime mover and trailer which is used to cart heavy machinery between sites.
This is usually a tough test which includes a theory part and a three hour practical test, including everything from controlling the truck to coupling/uncoupling the trailer and securing loads. He didn't make it in his first attempt which shows just how tough it is, but he did pass his second attempt.
Reconciliation Week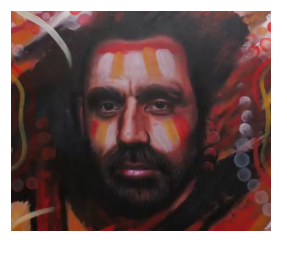 Reconciliation Week runs from 27 May until 3 June every year. These dates commemorate the 27 May 1967 referendum and the 3 June 1992 High Court Mabo decision. Reconciliation Week is a time for all Australians to learn about our shared histories, cultures, and achievements, and to explore how each of us can contribute to achieving reconciliation in Australia.
To commemorate this Reconciliation Week, after four years after it came out, here is the 'Uluru Statement from the Heart' as spoken by Pat Anderson, Stan Grant, Adam Goodes, Ursula Yovich and Troy Cassar-Daley, with music by Midnight Oil.
Library for Yuelamu Complete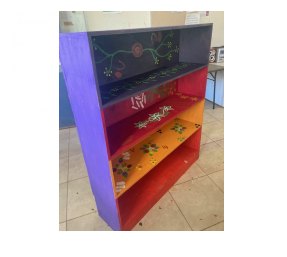 The Central Desert Regional Council (CDRC) Community Development Program (CDP) in Yuendumu designed and made bookshelves as part of the Drought Relief funding. The bookshelves are to be sent to other CDRC communities where they will be decorated and put into the Council offices as a small library.
Yuelamu have received theirs and the Yuelamu CDP have already decorated it. Expect to see the new library in the Yuelamu office soon.
Photo: The decorated bookshelf for the Yuelamu small library.
CDP Participants Help with Tanami Upgrade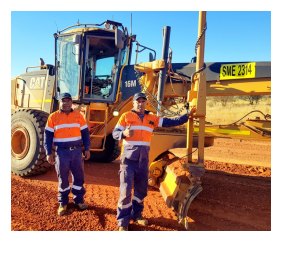 Central Desert Regional Council (CDRC) Community Development Program (CDP) participants in Yuendumu have been working on the Tanami Road Upgrade Project.
Both Eugene Penhall and Francis Penhall have been working with Exact Contracting since mid-February as all round machinery operators. Both have contributed to the Tanami Road Upgrade Project with their skills on the rollers, skid steer loaders, and IT loaders.
Yuendumu Tree Planting Project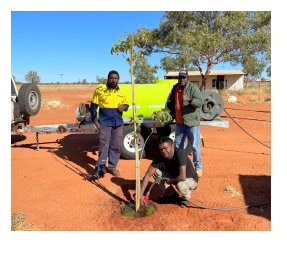 Trees have been planted at the Yuendumu oval as part of a Local Authority (LA) project. The work was completed by the Central Desert Regional Council (CDRC) Community Development Program (CDP) crew in Yuendumu.
After getting clearance from 'Dial Before You Dig' ten trees have been planted around the football oval. Aaron Singleton and Ansalem Wilson, both jobseekers in Yuendumu with CDP, helped to plant and water the trees in, with the help of Cliffy Egan, the Client Services Officer and Vaughn Hampton, Activity Supervisor at CDP in Yuendumu.
To water the trees they used one of the 2000 litre water trailers that the Yuendumu LA purchased last year.
Central Desert News April 2021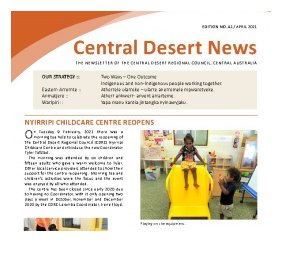 The April 2021 edition of the Central Desert News is out now! You can view it by opening the attachment below.
In this edition:
- Nyirripi Childcare centre reopens
- It's raining training at CDRC!
- A lot of actual rain
- Imparja Cup
- 2020/21 Year planner
CDP Activities Protecting Trees and Books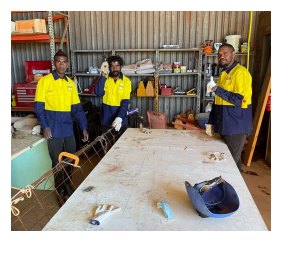 Community Development Program (CDP) participants across all the Central Desert Regional Council (CDRC) sites have been reengaging with the program after the Christmas break and the men's business season.
In Yuendumu they have been making tree guards for trees purchased under the Drought Relief funding.
Photo above: Left to right: Ziggy Brown, Andrew Brumby, and Eli Egan making tree guards for trees purchased under the Drought Relief funding.
CDRC VALUES AWARDS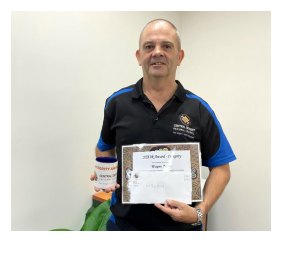 These are the premier Central Desert Regional Council (CDRC) awards, now in their third running. The value of the awards has been increased as the standard has increased. The awards were formally acknowledged at the last All Staff meeting in March, where winners received a certificate, $200 voucher and a mug commemorating the value the winner is demonstrating.
Congratulations to all the winners, well done on demonstrating the values and your strong contribution to Council.
Yuendumu Recycling Shed
Yuendumu now has a dedicated recycling shed, with bays for seven different recycling categories.
The shed was designed and constructed by an Alice Springs business using local employees, to cater for the community's needs and to assist with increasing recycling.
It also focusses on diverting waste from landfill, which is a National, Northern Territory and Local Government initiative. The aim is to increase the average resource recovery rate from all waste streams in Australia to 80% by 2030 (National Waste Policy Action Plan 2019).
Traffic Control Training for Works Crew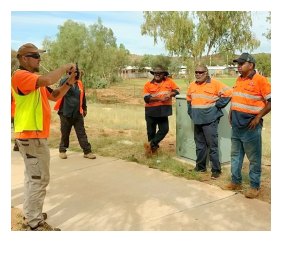 On 12 March Central Desert Regional Council (CDRC) works crew members participated in traffic control training, which they will use for their everyday road maintenance activities such as road grading, pothole patching, signage installation, etc.
The participants were Cyril Kunoth, Albert Wilson, Geoffrey Wilson and Colin French from Yuendumu and Alan Davis from Anmatjere.
The training was sponsored by Boral Asphalt and was delivered by Civil Train in Alice Springs.