Anmatjere News
Community Safety Training in Alice Springs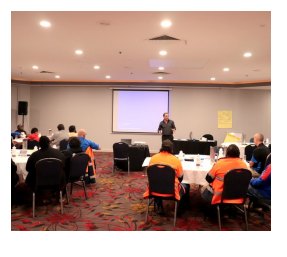 All the staff from Central Desert Regional Council's (CDRC) Community Safety Patrol (CSP) attended training in Alice Springs on 17 and 18 May. Staff from Yuelamu, Laramba, Atitjere, Engawala, Pmara Jutunta, Nturiya, and Lajamanu attended, and it was the first opportunity for the staff to get together since biosecurity restrictions were introduced in the communities in March 2020.
On the first day staff received a refresher in Council Policies, and had a chance to ask questions of the General Manager People and Culture, Irenee McCreevy, and Work Health and Safety Advisor, Carmen Hunter.
Central Desert News April 2021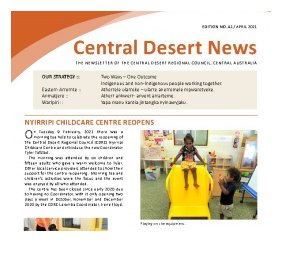 The April 2021 edition of the Central Desert News is out now! You can view it by opening the attachment below.
In this edition:
- Nyirripi Childcare centre reopens
- It's raining training at CDRC!
- A lot of actual rain
- Imparja Cup
- 2020/21 Year planner
CDRC VALUES AWARDS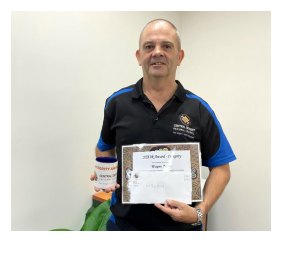 These are the premier Central Desert Regional Council (CDRC) awards, now in their third running. The value of the awards has been increased as the standard has increased. The awards were formally acknowledged at the last All Staff meeting in March, where winners received a certificate, $200 voucher and a mug commemorating the value the winner is demonstrating.
Congratulations to all the winners, well done on demonstrating the values and your strong contribution to Council.
Family Wellbeing Training for Aged Care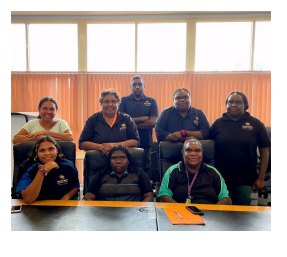 Central Desert Regional Council (CDRC) Aged Care Services staff in Anmatjere (Ti Tree) started their Certificate II in Family Wellbeing on Monday 22 March.
The certificate, delivered by Batchelor Institute in Ti Tree, is a program that addresses the physical, mental, emotional and spiritual issues that impact on an individual's wellbeing, family unity and community harmony.
The aim of the certificate is to address unresolved personal and community issues, which can impact on individuals and families throughout their lives. These can manifest in grief and trauma, suicide and other forms of self-harm, identity issues, use of alcohol and other drug problems, family violence and over representation of Aboriginal and Torres Strait Islander peoples in the justice system.
Traffic Control Training for Works Crew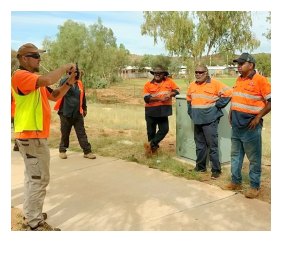 On 12 March Central Desert Regional Council (CDRC) works crew members participated in traffic control training, which they will use for their everyday road maintenance activities such as road grading, pothole patching, signage installation, etc.
The participants were Cyril Kunoth, Albert Wilson, Geoffrey Wilson and Colin French from Yuendumu and Alan Davis from Anmatjere.
The training was sponsored by Boral Asphalt and was delivered by Civil Train in Alice Springs.
International Women's Day
Every March 8th is International Women's Day. Today we are celebrating with an interview with the Chief Executive Officer (CEO) of Central Desert Regional Council (CDRC), Diane Hood.
What challenges have you faced in your career as a woman? How did you overcome them?
The inherent challenges to women in our society are sexism and unconscious bias against them. It is assumed that women should act in a certain way; nurturing and caring, but at the same time when in a leadership role they are expected to be logical and decisive, which are traditionally seen as male traits. When a female executive doesn't act the way they are expected to it is hard for them to be seen as an individual with individual strengths and weaknesses.
Anmatjere Flexible Aged Care Service Compliant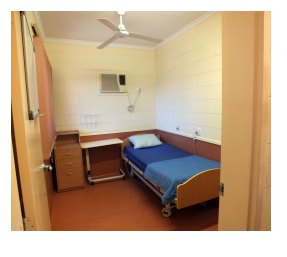 In a report that came out 24 February 2021, the Anmatjere Flexible Aged Care Service (Ti Tree) was given a tick of approval by the Aged Care Quality and Safety Commission.
The service, run by Central Desert Regional Council (CDRC), was considered to be compliant with the requirements set out in the Aged Care Quality Standards. These standards are developed by the Australian Government.
"Congratulations to everyone in Aged Care in Ti Tree. This is a fantastic result for Anmatjere Flexible Aged Care," said Pip Parsonson, Director Community Services at CDRC.
Photo: One of the rooms at the Respite Centre in Ti Tree.
CDRC Compete in Imparja Cup Final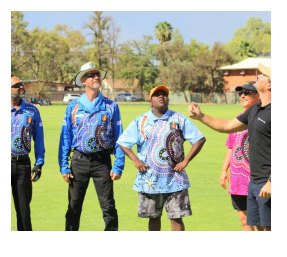 The Imparja Cup 2021 finals took place on Friday 19 February and it came down to the last over in the grand final for the Central Desert Regional Council (CDRC) Laramba team who almost took out the title.
After playing six games through the rounds and then winning their semi-final, the Laramba team played in the Statewide Super Women's Community Division Grand Final against the team Ladeez (Alice Springs). Central Desert batted first to make a total of 87. Simona Tilmouth top scored for the Laramba team with 30 runs (forced to retire) and took two wickets. But it was the consistent batting from the Ladeez team with four of the six batters making double figures which saw them take out the title. They won with just six balls to spare. The women displayed great integrity, humour and sense of fair play for the entirety of the competition, and represented the community of Laramba with great pride.
Municipal Crews Attend 4WD Training Course
On Tuesday 17 February Central Desert Regional Council (CDRC) municipal crews from Anmatjere (Ti Tree), Laramba and Yuelamu attended a four wheel drive training course in Alice Springs.
The attendees were Mack Murphy, Norman Hagan and Cliffy Tommy from Yuelamu; Billy Briscoe and Caesar Tilmouth from Laramba; and Elias Birch Baird from Anmatjere.
A four wheel drive course helps keep drivers safe when on dirt roads and prepares them in case they get bogged.
Photo from left: the instructor, Billy Briscoe (behind), Cliffy Tommy, Caesar Tilmouth, Mack Murphy and Norman Hagan.
Cricket Upskill for Youth, Sport and Recreation Staff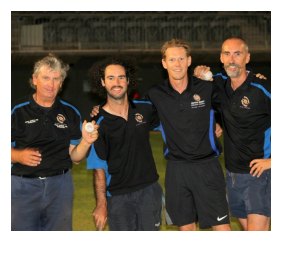 Central Desert Regional Desert (CDRC) had four representatives at Northern Territory Cricket's Community Coaching Course (Level 1) on Wednesday 17 February.
Stephen Royes, Stephen Evans, James Anderson and Jeff Aubert (Youth Sport and Recreation Team Leaders in Engawala, Laramba, Yuelamu and Ti Tree respectively) completed the online component of the course prior to the practical session, which was held at Mona's Lounge, Traegar Park in Alice Springs.
The Team Leaders will pass on the skills learnt to the Youth, Sport and Recreation Officers in their communities to continue to upskill players in preparation for inter-community tournaments, Imparja Cup, and Youth, Sport and Recreation evening activities.