Nturiya Clean Up Day a Success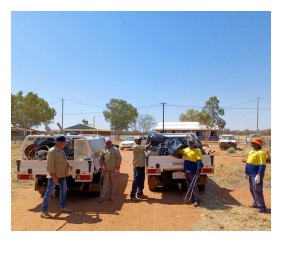 Community cleaning was identified as a priority in the Community Development Program (CDP) community survey ran in July. CDP has created a program to mobilise communities to clean up their locations. The first cleaning exercise was held at Nturiya (Station) on 6 October and the program continued on 12, 13 and 14 October in Pmara Jutunta (6 Mile), Nturiya and Wilora respectively.
Photo: Mark Francis, Builder Trainer, Billy Anderson, Support Officer, Ryan Nelson, Support Officer, Clifford Martin, job seeker and Francis Madonko, Program Manager CDP Activities, finishing the clean-up.