Lajamanu News
Central Desert News April 2021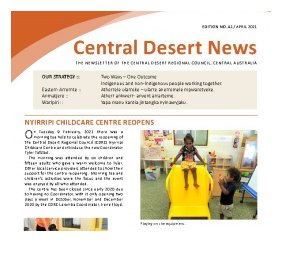 The April 2021 edition of the Central Desert News is out now! You can view it by opening the attachment below.
In this edition:
- Nyirripi Childcare centre reopens
- It's raining training at CDRC!
- A lot of actual rain
- Imparja Cup
- 2020/21 Year planner
CDRC VALUES AWARDS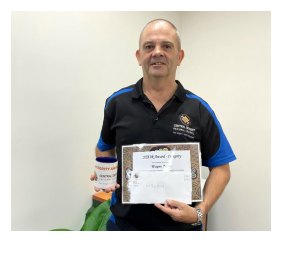 These are the premier Central Desert Regional Council (CDRC) awards, now in their third running. The value of the awards has been increased as the standard has increased. The awards were formally acknowledged at the last All Staff meeting in March, where winners received a certificate, $200 voucher and a mug commemorating the value the winner is demonstrating.
Congratulations to all the winners, well done on demonstrating the values and your strong contribution to Council.
Kids Safety Program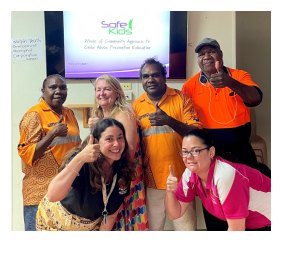 On Wednesday, 10 March, members of the Central Desert Regional Council (CDRC) Lajamanu Community Safety Patrol attended a stakeholder workshop as part of the Safe4Kids program. Safe4Kids works through the school to teach protective behaviours to children, and provide them with a set of tools to use if they feel unsafe. Delivery at the school is followed up with community education sessions, ensuring that adults understand what the children have learned, and recognise the simple hand gestures that can be used to demonstrate feelings of safety or distress.
Pictured are (back row) Matrina Robertson (CDRC), Holly-Ann Martin (Safe4Kids), Gerald Watson and Andrew Johnson (CDRC), and (front row) Francesca Szakaly and Michelle Newman (Katherine West Health) giving the thumbs up sign, to show that they feel secure.
International Women's Day
Every March 8th is International Women's Day. Today we are celebrating with an interview with the Chief Executive Officer (CEO) of Central Desert Regional Council (CDRC), Diane Hood.
What challenges have you faced in your career as a woman? How did you overcome them?
The inherent challenges to women in our society are sexism and unconscious bias against them. It is assumed that women should act in a certain way; nurturing and caring, but at the same time when in a leadership role they are expected to be logical and decisive, which are traditionally seen as male traits. When a female executive doesn't act the way they are expected to it is hard for them to be seen as an individual with individual strengths and weaknesses.